Most welcome
at the

The First Class
Childrens Day-Care
picturesquely situated
in the wonderful
St. Alban-Vorstadt
in Basel
Kinderhuus
BiBBELi
St. Alban-Vorstadt 96
CH-4052 Basel
o061 331 41 87
bibbeli@hotmail.com
Die Kindertagesstätte
erster Klasse
gelegen in der
wunderschönen
St. Alban-Vorstadt
in Basel
Willkommen
im

Swiss Management
Approved by the Education-
Department Basel-Stadt.
Cildren from 4 Month until 12 years.
1 Mixed-age group
with at the most 10 children
Schweizer Leitung
Bewilligt durch das Erziehungs-
departement Basel-Stadt.
Kinder ab 4 Monate bis 12 Jahre.
1 Altersgemischte Gruppe
mit maximal 10 Kindern
At the Kinderhuus BiBBELi
spoken languages
With the children we speak
mainly Baseldytsch,
the idiom spoken in Basel.
Im Kinderhuus BiBBELi
gesprochene Sprachen
Die mit den Kindern gesprochene
Sprache ist Baseldytsch,
das in Basel gesprochene Idiom.


On the same level
we also communicate with the
parents, as and when required,
in the languages as follows
English
Français
Italiano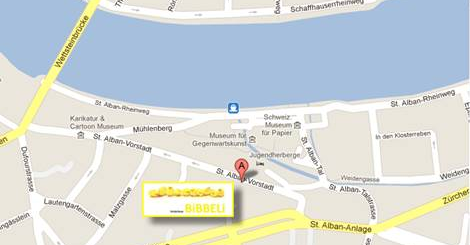 Auf gleichem Niveau
kommunizieren wir
bei Bedarf mit den Eltern
auch in den Sprachen
English
Français
Italiano
Espagñol
Portugués
In Basel-Town the number of Childrens Day Care is 116.
The majority of them are looking daily after 40 to 90 children.
The statutory aera-requirements are only 6 m2 per child.
Not in a dark cellar, but sunny and bright situated on the
ground floor, the Kinderhuus BiBBELi offers a surface of 120 m2.
So Your Child will enjoy at least 12 m2 ...
We think,
that Your Child deserves more then the "minimum".
In Basel-Stadt befinden sich 116 Kindertagesstätte.
Die Mehrzahl von ihnen hat täglich zwischen 40 bis 90 Kinder.
Die gesetzlichen Platz-Anforderungen sind minimale 6 m2 pro Kind.
Nicht in einem dunklen Keller, sondern sonnig und hell im Erdgeschoss
gelegen, bietet das Kinderhuus BiBBELi eine Fläche von 120 m2.
Dadurch kommt Ihr Kind in den Genuss von mindestens 12 m2 ...
Wir sind der Auffassung,
dass Ihr Kind auf mehr als das "Minimale" Anspruch hat.